Panda Express Catering Menu is a casual restaurant that offers a blend of American and Chinese cuisines.
The Panda restaurant was first established in 1973 in Pasadena, California. Andrew Cherng and his father, Master Chef Ming-Tsai Cherng are the founders of Panda Express.
For the first time, Panda Express brought forth new taste and many flavors of Mandarin and Szechuan food. This adds to the taste buds of the foody residents of South California.
Ever since that time, Panda Express has become the best and most popular food chains in the United States.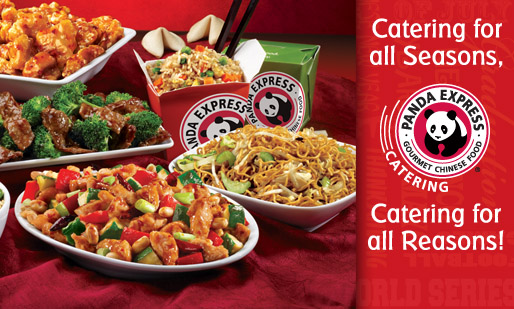 The success of the restaurant inspired Andrew Cherng to begin the Panda Express in Glendale Galleria in California.
Moreover, the outlet of Panda Express in California has a brand new vision of Chinese fast-food. It provides the option of instant service for its customers and clients.
Panda Express Catering Menu Prices
The Panda Express Catering menu offers so much to their customers. It starts with delicious meals to easy service to convenience.
| Item | Price |
| --- | --- |
| 12-16 People | |
| 2 Party Tray Sides, 2 Party Tray Entrees, Fortune Cookies | $99.00 |
| 18-22 People | |
| 3 Party Tray Sides, 3 Party Tray Entrees, Fortune Cookies | $139.00 |
| 26-30 People | |
| 4 Party Tray Sides, 4 Party Tray Entrees, Fortune Cookies | $179.00 |
| Entrees | |
| Pacific Chili Shrimp (Party Tray) | $52.00 |
| Grilled Teriyaki Chicken (Party Tray) | $37.00 |
| Orange Chicken (Party Tray) | $37.00 |
| SweetFire Chicken Breast (Party Tray) | $37.00 |
| String Bean Chicken Breast (Party Tray) | $37.00 |
| Kung Pao Chicken (Party Tray) | $37.00 |
| Mushroom Chicken (Party Tray) | $37.00 |
| Black Pepper Chicken (Party Tray) | $37.00 |
| Beijing Beef (Party Tray) | $37.00 |
| Shanghai Angus Steak (Party Tray) | $52.00 |
| Broccoli Beef (Party Tray) | $37.00 |
| Honey Walnut Shrimp (Party Tray) | $52.00 |
| Mixed Veggies (Party Tray) | $13.00 |
| Veggie Spring Roll (Party Tray) | $37.00 |
| Chicken Egg Roll (Party Tray) | $37.00 |
| Crispy Shrimp (Party Tray) | $37.00 |
| Cream Cheese Rangoon (Party Tray) | $29.00 |
| Sides | |
| Chow Mein (Party Tray) | $13.00 |
| Fried Rice (Party Tray) | $13.00 |
| White Steamed Rice (Party Tray) | $13.00 |
| Brown Steamed Rice (Party Tray) | $13.00 |
| Mixed Veggies (Party Tray) | $13.00 |
| Drinks | |
| Aquafina | $1.90 |
| Gatorade Lemon-Lime | $2.20 |
| Ocean Spray Apple Juice | $2.00 |
Panda Express offers catering services to its customers. Their catering menu includes a variety of entrees while they also offer appetizers and sides.
Following is the variety of entrée that Panda Express offers:
 Beijing Beef
Black Pepper Chicken
Broccoli Beef
Grilled Teriyaki Chicken
Honey Walnut Shrimp
Kung Pao Chicken
Mushroom Chicken
Orange Chicken
Shanghai Angus Steak
String Bean Chicken Breast
Sweet Fire Chicken
Beijing Beef:
Beijing Beef is a-la-carte party tray that offers crispy beef with bell peppers and onions in a sweet-tangy sauce. Beijing Beef can prove to be the best meal possible for you with its quality taste.
Black Pepper Chicken:
Black Pepper Chicken is a-la-carte tray marinated chicken. It is offered with celery and onions in a bold black pepper sauce.
Broccoli Beef:
It is also a-la-carte tray but Broccoli Beef is also a Classic Favorite in Panda Catering. What makes it a classic favorite is the tender beef and fresh broccoli in a ginger soy sauce.
Grilled Teriyaki Chicken:
This la-carte tray offers Grilled chicken hand-sliced which is served with Teriyaki sauce.
Honey Walnut Shrimp:
Large tempura-battered shrimp which is wok-tossed in a honey sauce and topped with glazed walnuts is the most wanting la-carte tray.
Kung Pao Chicken:
Kung Pao Chicken is a Sichuan inspired dish. It has chicken, peanuts, and vegetables which are finished with chili peppers.
Mushroom Chicken:
Mushroom Chicken offers a delicious combination of chicken breast, mushrooms, and zucchini wok-tossed. All it comes with a light ginger soy sauce.
Orange Chicken:
Panda Express is famous for its signature dish which is Orange Chicken. It has delicious crispy chicken wok-tossed in a sweet and spicy orange sauce.
Shanghai Angus Steak:
It is an a-la-carte party tray. It comes with Angus steak wok-seared with fresh asparagus, onions, and mushrooms in a savory sauce.
String Bean Chicken Breast:
Chicken breast, string beans, and onions wok-tossed in a mild ginger soy sauce are what String Bean Chicken Breast offers.
Sweet Fire Chicken:
It offers crispy white meat chicken, red bell peppers, onions and pineapples in a bright and sweet chili sauce.
Benefits of Panda Express Catering
Many times when we have a family gathering or even an office gathering, it gets difficult to serve a large number of people.
This is where Panda Express Catering comes into play. Panda Express Catering is the best choice to deal with huge gatherings. Because of its quality in surpassing the usual American taste.
Express Catering provides a range of unique and tasty food in big plates. All of them come with delicious starters and desserts. It makes the overall experience of food and the gathering a must to have again.
Moreover, when you take Panda Express Catering Services, they take charge of every little detail. You will be free of any sort of trouble in managing things.
Panda Express Catering will take care of everything from plates to utensils to the delicacy of the food. Fortune cookies are also offered in their services.
Don't Have Bigger Appetite? Go For the Appetizers
Express Catering understands the various needs of its customers. Sometimes customers need something easy to hold and light to eat. Panda Express's appetizers fulfill that need of the customers.
They have pan-seared chicken potstickers that are made with chicken. It has a roundabout of cabbage and onions.
If you need light but crunchy food then go for the Cream Cheese Rangoon. When a dish is presented, the whole experience of eating becomes lovely. This is what Cream Cheese Rangoon offers. It gives a beautiful appeal on the plate with its wonton wrapper pinched giving a pinwheel effect to the dish.
Express appetizers also offer crispy shrimp. This crispy shrimp is butterflied while its tail remains attached. It can be used as a perfect utensil to swoop through the sauce.
Then comes the veggie spring rolls. These spring rolls are meatless and they are wrapped in the classic wonton wrapper for more crunch.
How to Plan Your Panda Express Catering Menu
While there is not much for you to worry about, it becomes important for you to know your needs. For instance, you should have an estimate. An estimate of things needed according to your gathering. It is vital to know before assigning it to the panda catering.
Panda catering services can be ordered for a group as small as 12. The setting also needs to be taken into consideration. For instance, if it is a lunchtime or a dinner gathering, or a light breakfast meet up.
Lunchtime will be fulfilled with two entrees and two side dishes. While a formal dinner gathering might need entrees, appetizers, and side dishes.
Entrees offer a platter with many portions. So go for ordering per person in the group. Plan on entering appetizers too for everyone. You can also consider the meaty and vegetarian options on the menu.
Panda Express also offers buffet styles if you demand it. Trays in the buffet will come with various options for you to choose from. It starts from Teriyaki Chicken to Orange Chicken to Eggplant Tofu and much more. Fortune cookies are complimentary with every order.
Step by Step Guide on How to Order from Panda Express
Panda Express comes with a variety of Chinese and American items at affordable prices. The process of ordering from Express panda is comprised of three steps: online order, pickup, and enjoy. Following are the few steps to remember:
Few entrees like Shanghai Angus steak and honey walnut shrimp charge a more amount. So decide according to your budget what exactly you want.
To proceed with your ordering procedure, you must register yourself. Do it by creating your account using any of these: Google plus, facebook, or email address.
Choose your desired dish from appetizers or salads
Choose your favorite entrée
Don't forget to read the guidelines given with every entrée
Be sure of whether you need the Full Tray or ½ Tray
 Choose Noodle, Sides, and Rice to complement your mealtime
Know whether you need drinks or not
 Choose your service option
 You will be asked for your preferred pickup date and time.
 Enter your payment information
 And then you are finally good to go and wait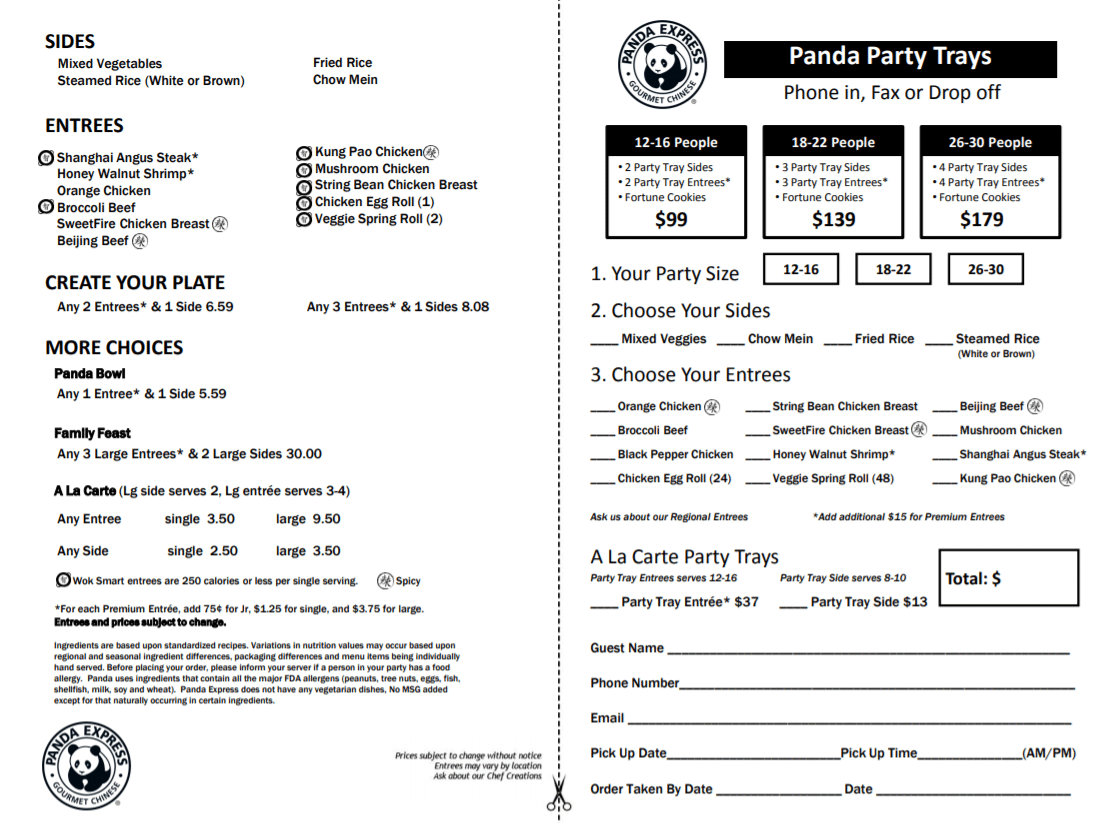 Panda Party Trays and Express Catering Reviews
Panda Express Catering offers in your service various deals of panda party trays. They help you in making your mealtime with your gathering enjoyable and delicious.
Express catering offers three main combinations of party trays for big gatherings or meetups.
The first one is for 12 to 16 people in total. It includes 2 party tray sides, 2 party tray entrees, and fortune cookies.
The second is for 18 to 22 people. It includes 3 party tray sides with 3 party tray entrees and fortune cookies.
The third combination caters to 26 to 30 people. It includes 4 party tray sides, 4 party tray entrees, and fortune cookies.
Moreover, two-party trays are estimated to cost $99. Three party trays can cost $139. While four-party trays can cost around $179.
What makes Panda Express more exciting is their promo codes, gift cards, and discount offers on their meals.
All you have to do to avail of these discounts is to sign up for their exclusive offers. And use their promo codes to make the most out of their exciting offers.